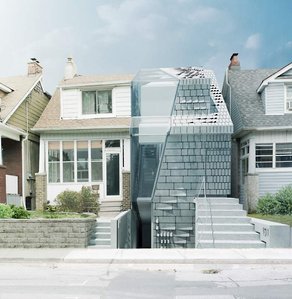 Name: Semi[Detached]
Location: Toronto, Canada
Team: Jodi Batay-Csorba, Andrew Batay-Csorba
Project Area: 1,300 sqft
Project Year: 2011-2012
Project Status: Speculative
PROJECT DESCRIPTION
The unique phenomenon we observed in Toronto was the dense residential housing stock intermixed within the large urban typology. The duplex is the predominant residential typology in Toronto, which include century old single and multi unit Victorian, Arts and Craft, and Bay and Gable style houses. The houses can be characterized as having multiple personalities, oscillating from one that reads as a singular house, to two separate structures. Changes in identity are solely surface deep and decorative, evidenced through a differentiating color, texture, or ornamentation based on the boundary of one's property line. These alterations are a product of the pervasive do it yourself reno culture that inhibits any real investigation into this typology.
As a response to Canada's drastic temperature shifts ranging from -40 to +40, Semi[Detached] explores the insulating potential of nested volumes embedded within the architecture. Each room is nested within the macro building envelope providing an inner and outer shell separated by a mechanically ventilated air space. In the summer, the double skin reduces heat gain and lowers air conditioning loads, and in the winter doubles the insulation value of the enclosure. The cavity between the two building skins ventilates the building allowing the skins to breath.
The building skin is comprised of monolithic fiber reinforced concrete panels that function to collect snow in the winter, adding a seasonal layer of insulation to the dwelling. The panels are contoured and oriented towards the prevailing winter winds, functioning similar to a common snow guard seen on roofs in northern climates which prevent large amounts of snow from falling off the roof. A pixilated pattern made from three varying sizes provides the house with a seasonal identity through the buildup of snow in the winter and shadow patterns in the summer. The panels are strategically clustered in order to create a series of figurations that play out over the entire building skin. The underside of the contoured panels are embedded with coloured aggregate which provide a coloured glow to the surrounding snow.
Toronto's residential lots are typically long and narrow, forcing the dwellings interior to be oriented towards the front and back yards as a mean of bringing light and air into the depths of the elongated floor plates. Traditionally space planning in these dwellings have been forced into an either/or relationship towards a closed Victorian or a Contemporary open plan. Semi[Detached] explores a new organization through the reorientation of program spaces towards the four story glazed void. This reorientation provides a direct connection to the light from every room in the house versus the traditional model that book ends the experience towards the front and back yards.